Neon Interviews NY based Makeup Artist Lilly Jean about her Personal Beauty Journey, from Adolescent to her current Beauty Bombshell status. She also spills about leaving her International fashion career behind for contours, highlights, airbrush & lashes.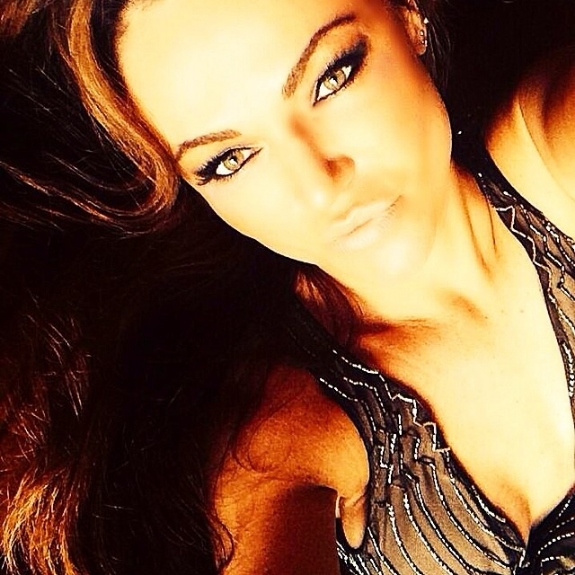 J: Lilly, How would you describe your Personal Beauty Evolution?
L: My mom would cut my hair short & Like a lot of young girls, I started playing with nail polish . . .
Then as a teen I grew my hair super long and wore it curly.
I became obsessed with a particular Revlon Nude flesh tone color lip stick & gloss. I used to by them in bulk 5/6 at a time. I would always stock up on my favorites.
I also started wearing black kohl liner, mascara & thin Dark brows filled in with pencil. Maintaining Healthy skin came next; exfoliating & maintaing a daily skin care regimen specific to my skin type.
J: When Did you start to develop a an affinity to wearing color as opposed to nude?
L: My friend Daniella bought ruby woo when it came out and then forced me to try it. After that I was hooked. I Then started experimenting with oranges, deep burgundy's, & coral. "I Hate Pink ." "I like it on other people just not on me.
J: When did you decide to enter the Beauty / fashion industry as a professional as opposed to a consumer?
L: Well Neon first came fashion. When I lived In Johannesburg, I managed several Hi end Brands; La Perla, Diesel, Style Lab & Dsquared2 . Because of my entrepreneurial spirit I simultaneously started importing wholesale products from LA; denim, other various clothing, accessories, bags, & working on my own designs; clothing, jewelry, bags.
My designs have been featured in Elle Magazine , Cosmopolitan & FHM and sold in exclusive boutiques; Ruby in the dust & life . I was extremely successful & ended up leaving retail management and moving to LA because me business was growing so fast.
J: When did you decide to enter the Beauty Industry?
L: When I arrived in NY I became discouraged because the design industry was too saturated. I was looking to change career and still do something that helped adorn the human body. Skin is a natural extension of beauty &I wanted to do something I loved . I enrolled in the Lia Shorr Institute & received a license as an aesthetician and makeup artist. During the course I became more enamored with makeup artistry. Especially because I had instructors who were into theatrical, editorial, & camouflage makeup. I took note of how huge the bridal industry is as well as how romantic, clean, & classic it is. A friend raved about Neonfix/Prim & Per'fect and so I decided to do a Bridal Makeup Class with you and focus on creating waterproof, long wearing looks and booking brides . As opposed to other places your class introduced me to airbrush as well as behind the scenes entrepreneurial insight into building a succesful Beauty Brand.
J: How do the beauty Industry in other countries differ from NY
L: Croatia & Johannesburg, South Africa Mac Cosmetics was available / but when I Moved to new york city where the cosmetic market was huge" I discovered Sephora and my life changed! " So it goes un said that in NYC I found a new appreciation for the Beauty Industry. I submersed my self in every facet from Hair extensions to highlights, Brazilian Hair Straightening, hair & skin care products,I developed a fetish for lashes, thinner & lighter fuller brows, Bronzers, Highlighting , contouring.
J: What's your main focus when it comes to your personal style of Makeup artistry?
L: I really focus on perfecting skin, highlighting & contouring. I think it's the most important. If your foundation is messed up or does not compliment your complexion it ruins your whole look.
J: What are your short/long term career goals and what steps are you taking currently to propel you closer to achieving them?
L: I will be launching my website in a few weeks for my Brand LillyJeanMakeup.com, so I've been super busy shooting content for my portfolio. I love seeing my work come to life on camera. I'm also fine tuning my Airbrushing skills & consistently cultivating my Brands Online presence. In the future I plan on attending NYU's SPecial effects course & Launching my own makeup & skin care line.